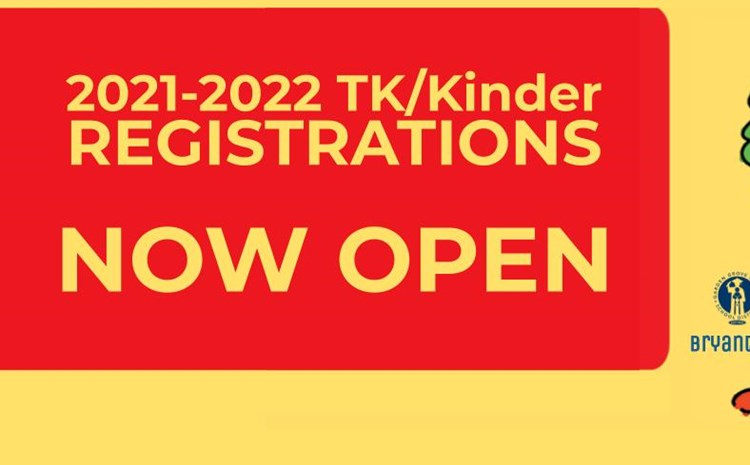 2021-2022 TK/Kinder Registrations -NOW OPEN-
Wednesday, February 17, 2021
TRANSITIONAL KINDERGARTEN/KINDERGARTEN REGISTRATION FOR 2021/2022
-
Registration for TK/Kindergarten for the 2021-2022 school year will begin on Wednesday, February 17, 2021. Parents of incoming students, 
who have never attended a GGUSD school/preschool 

MUST
begin registration by using the AIR online student pre-enrollment program, which is available at
enroll
.ggusd.us
AFTER
pre-enrolling your child using the online link, please

CALL our office to set up an appointment
to complete your child's enrollment.

 
-
Both steps MUST be completed

 

-

 

the online registration (may be done using your home computer/laptop/smartphone) AND the portion to be completed by APPOINTMENT in our office.
Parents of students who are already enrolled in Preschool at one of our GGUSD school sites or who have been enrolled at any GGUSD school at any time, should NOT do the online portion - just call our office for an appointment.
-
AFTER completing the online portion, please call 714-663-6451 for an appointment
IMPORTANT!: When completing ENROLL.ggusd.us 
Please make sure that you enter accurate Parents' and Emergency Contacts' information in the correct fields (full names, cellphone number, emails, etc.) AND with the correct contact code (mother, father, legal guardian, etc.) in order to facilitate integration with the ParentSquare communication system.

WHO IS ELIGIBLE FOR KINDERGARTEN IN AUGUST 2021:
1. Birthdate: September 2, 2015 - September 1, 2016
2. Children must be completely immunized as a required by California state law.
3. Children must live within the Bryant School attendance area
WHO IS ELIGIBLE FOR TRANSITIONAL KINDERGARTEN IN AUGUST 2021:
1. Birthdate: September 2, 2016 - December 2, 2016
.
REQUIRED DOCUMENTS - BRING TO YOUR APPOINTMENT TO COMPLETE REGISTRATION:
You will also need to know your email and the password when you come to your appointment.
1. Proof of birth date (any of the following is acceptable):
-Certified copy of the birth certificate OR baptism certificate
-Passport or 
Immigration Visa
2. Address verification
Present ONE of the following items:

-Deed to home/Rental Lease Agreement

-Property Tax Bill or 

Tax Return

OR present TWO of the following items:

-Driver's License/California ID Card with current address

-Automobile insurance (with your name and current address)

-Cable TC bill or 

Electric or Water bill or Gas bill
3. Evidence of Immunizations California law requires the following immunizations prior to enrollment:
| | |
| --- | --- |
| Polio | 3 DOSES meet the requirement if at least one was given on or after the 4th birthday. |
| DTP | 4 DOSES meet the requirement if at least one was given on or after the 4th birthday. |
| Measels, Mumps Rubella (MMR) | 2 DOSES - both doses on or after the 1st birthday. |
| Hepatitis B | 3 DOSES at any age. |
| Varicella (chickenpox) | 2 DOSES (or healthcare provider-documented varicella disease history or immunity). |
4. There are also Registration Forms to be picked up form school and completed at home. You will then bring those completed forms with you to your appointment. When you call to make your appointment, we will advise you how to obtain the Registration Forms.